What is the ACN?
The Amputee Coalition of Niagara is a Community organization based out of the Niagara Region in Ontario Canada. Our Mission: Connecting Amputees in Niagara ~ Developing and Supporting our Limb Loss Community Together.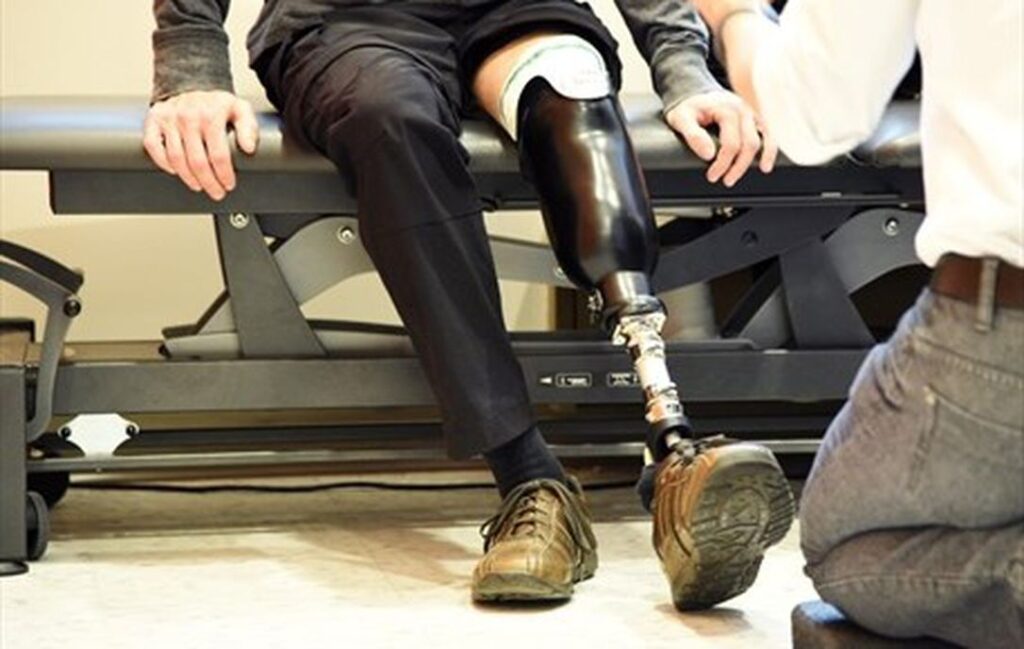 Niagara Region Amputees Chris Garner and Peggy Humber came up with the idea of a Community organization that has a higher focus on maintaining a Healthy and Active Lifestyle. Additionally, we identified a need for more organization among the Limb Loss community and that the best way to help as many Niagara Amputees as possible would be through implementing a Certified Peer Support Program. The more that we discussed various ideas we realized quickly how much Niagara had to offer and our direction became clear.
One of the first ideas was to make Amputees in Niagara aware of some of the many programs that are already in place as well as a few that are in the works that can be a lot of fun. There is a very storied Sledge Hockey Team called the Niagara Thunderblades who in 2020 won the Niagara Falls Review's Readers Choice DIAMOND award for Favorite Local Sports Team. There have been several National Players who previously and currently play for the team, however they are considered an entry level organization, so it is a fantastic place to start if you have any interest at all in learning about the sport and even giving it a try! The Brock Niagara Penguins is a Youth based Para Sports organization sponsored by Brock University. While primarily their programs are geared towards younger athletes, they definitely have lots to offer people of all ages. Visit the Para Sports page for more information and the Resources page for a link to their website! For more information on Para Sports head on over to the Para Sports page and learn about the team sports and individual sports, and how you can get involved!

The Certified Peer Support Program is something that they both felt was something that needed to be implemented. While there are Peer Visits(PV's) that have been offered in Niagara, they have never been done through the Nationally Certified Program. There are so many reasons that we felt PV's needed to have training and certification, however some of the more important reasons include: ensuring that the information that is being shared is up to date and accurate, and is done so in a morally acceptable way. When a person goes through losing a limb they are in a vulnerable state and can be easily influenced. An untrained PV may not realize that they are even sharing information that can cause harm, discourage, or even offend the patient. Being certified also links the PV to a network of other Peer Visitors across the country. Having literally an army of other Amputees who all want to help each other is a very powerful thing, and it is definitely time that Niagara ties into that network! It is our goal to ensure that every Peer Visit that happens in Niagara is done by a Certified PV, regardless of which organization they associate with. Training will be made available to any Amputee who wishes to help the Amputee Community, so we encourage anyone who is interested to reach out by sending us an e-mail!

This website was created as a One-Stop-Shop for any one living in Niagara that is interested in Limb Loss, whether they are an Amputee themselves, a family member, for education purposes or a business that is looking to assist the community. We definitely like to hear from you! Our Resources Page will continually be added to for links to anything that can help. It is broken into Regional, Provincial, Federal and Global links.
We hope to connect with as many Niagara Region Businesses and Services that are able to help the Limb Loss Community. Losing a Limb can be one of the most overwhelming and life changing experiences that a person can go through. Anything that we are able to do to make that journey easier, we hope to be able to be there and have the information and answers. Our Niagara Amputee Kit that we hand out at Peer Visits will have discounts and information to as many essential items that a new amputee may not ever realize they need. The purpose is to take away the thinking, as there is already so much to think about, so a check list of things to remember such as: Shower bench, safety bars, clothing alterations, vehicle modifications, license testing and many other things.
If You are a Business or Service and have a way to help, please reach out to us and we are always happy to meet!
There are no limits to what we can achieve, and connecting Niagara together will make it easier for all of us.